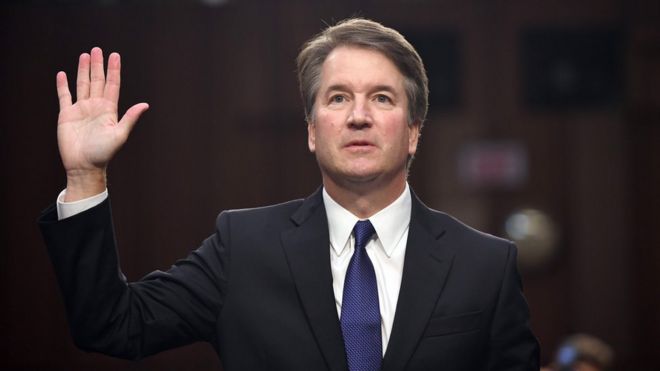 Supreme Court Justice Brett Kavanaugh during his recent hearings in Washington, DC.
By Shayonne Ray, Contributing Writer
We have all seen the mass news coverage regarding the sexual allegations of Judge Brett Kavanaugh, the Supreme Court nominee. If you recall these allegations emerged in early July weeks before President Donald Trump announced the nomination. There was a nation-wide stand off as political parties choose sides on the topic. Friday October 5th, Senator Susan Collins gave a speech on the Senate floor, expressing the details on the investigation, and how she came to her conclusion on supporting Kavanaugh; and voting him in office.

Three woman, the first being Dr. Christine Ford claimed Kavanaugh allegedly sexually assaulted her at a party in a Maryland suburb sometime in the 1980's. The incident took place when Ford was somewhere around the age of 15, and that would of put the judge around the age of 17 as her memory recalls. After notes from a therapy session Ford attended with her husband were sent to the Post, news spread of the allegation and took the country by storm.

The second woman was Deborah Ramirez, who in an interview with the New Yorker said: "Kavanaugh exposed himself to me my freshman year at Yale." Lastly Julie Swetnick said she witnessed Kavanaugh at parties watch as boys would verbally abuse woman, drug them and assault them. I conducted my own interview with a co-worker of mine, who works with me at AtlantiCare Regional Medical Center. Sarah Barber, work as a Registered Nurse in the emergency department, but was also once an officer in the Coast Guard. During the interview which took place in the Emergency Room just days after just taking care of a sexual assault victim Barber expressed her opinion on the confirmation of Kavanaugh.

I asked Barber her opinion on the vote which was 50/48 in favor of the judge and she stated, "Well, aside from being accused of sexual assault, I don't think he will rule in ways that agree with what I hope for the future of woman's health in this country. I think there's a high likelihood that he will make judgments that will limit my rights to make choices about healthcare that affect my body. They should of stopped the confirmation process and picked someone else."
When asked if the government handled the investigation in a fair and honest manner she said:"I think the whole process highlighted how white men dominate our government and don't really care about what woman want. The investigation should not have been so limited either."

In the future, do you see Congress changing it's way of electing nominee's into office? " I asked her and she stated, "I do not. I feel whoever they want they will get. I am convinced that the Republican party would nominate someone who agrees with their politics beyond any reasonable doubt." Brett Kavanaugh's nomination caused a political debate around the world with many who supported the Judge, and also who opposed him.
Many believed his accusers and many did not. Some say the Supreme Court Judge got away with rape, but what do you think?